I had not taken yoga or participated in any body movement for quite some time … I found your teaching style to be gentle, informative and accommodating for all levels and the selection of music was characteristic of your funky style.

– Candace Mickens, Ubuntu Village Inc., Washington, DC
Invite me to your studio or organization to offer a workshop or teach a regular class. Infuse a yoga break into your next conference or event. Tell me what you are looking for.
In addition to connecting you with being presence and cultivating inner peace, yoga is also said to:
Reduce the physical effects of stress on the body
Increase strength, improve flexibility and enhance mobility
Improve circulation, improve lung function and encourage relaxation
Private + Semi-Private Instruction
Private sessions provide the opportunity to establish a yoga practice. If you are regularly practicing yoga, it will help fine tune and deepen your practice. If you are new to yoga, private sessions offer guidance and support in establishing a comfortable yoga practice. Yoga has multiple layers, so in private sessions, we can explore yoga history, meditation, philosophy, physical movements and/or lifestyle involved in the practice. Emphasis on any particular component is tailored to your individual needs and situation.
On-site Yoga + Corporate Classes
All of the benefits of yoga are completely transferable to a corporate environment, your industry conference or organization. Yoga practices and workshops have been and can be used to promote and encourage employee well-being. What organization doesn't want enhanced productivity, decreased fatigue, improved energy level and increased productivity?
Interested in a free introductory class to see if yoga is a right fit for your organization? Just click here to schedule it.
Current: Classes + Events
NOTE: All classes are suitable for beginners to more advanced practitioners, unless otherwise noted. Drop-ins welcome, unless otherwise noted.
Tuesdays:
3500 N. University Drive Sunrise, FL
Sundays:
2701 S. University Drive Davie, FL
Events:
New Year's Day Yoga Flow
01.01.14 at 11:00a
Meet at Fort Lauderdale Beach
At the intersection of Sunrise Blvd + AIA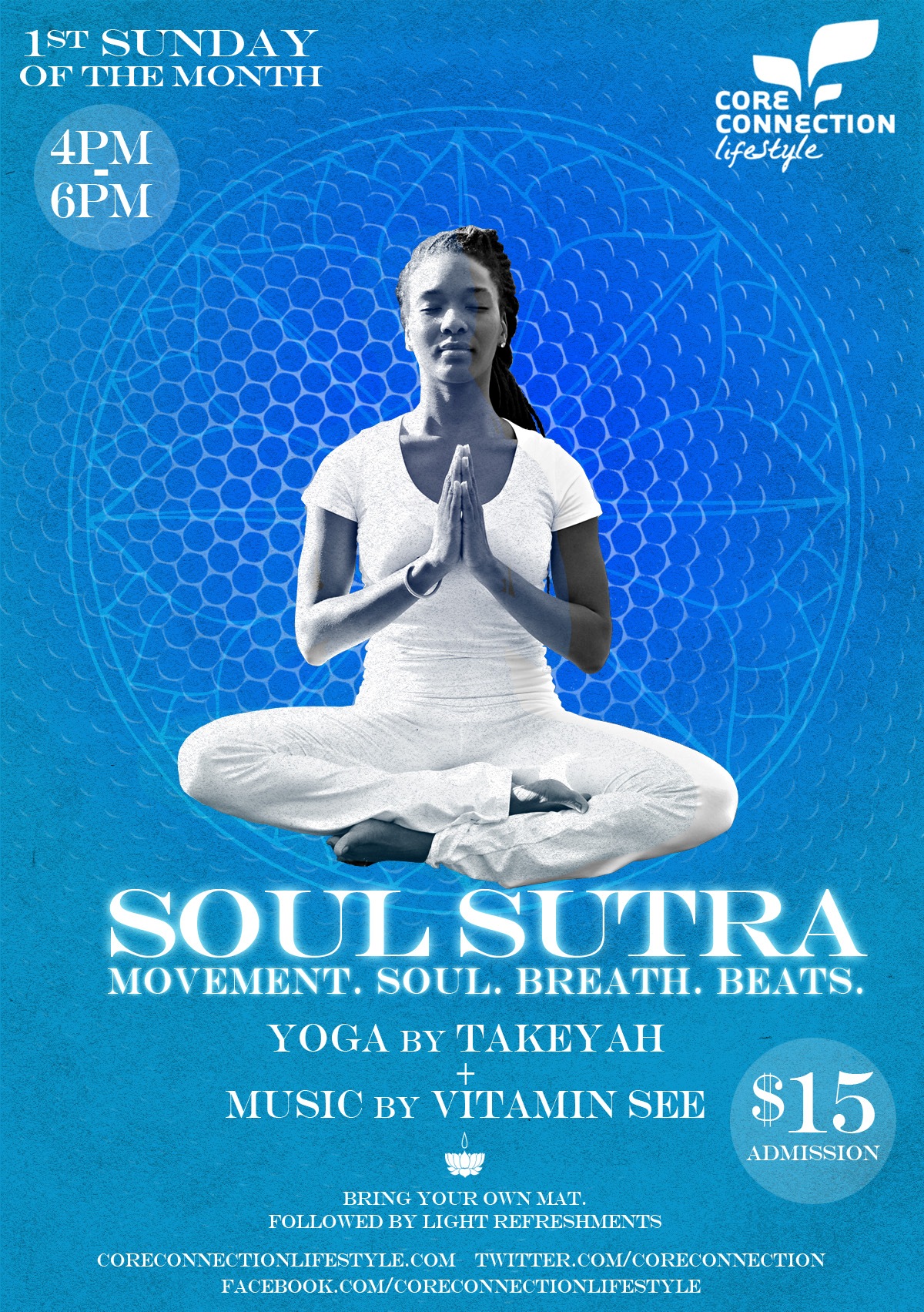 Soul Sutra | Movement. Soul. Breath. Beats.
First Sunday of each month
4:00 – 6:00PM | Sunrise, FL
RSVP to receive the address
| http://SoulSutraFL.eventbrite.com
Past: Classes
Vinyasa flow/all levels; Mint at Riverfront 350 South Miami Avenue Miami, FL
Vinyasa flow/all levels; Faith Hunter's Embrace Yoga DC 1650 Columbia Rd, NW Washington, DC
Open Level; Spirit Health and Wellness Center 2300 Martin Luther King, Jr Avenue SE (5th Floor) Washington, DC
Yoga on the Roof; Liaison Capitol Hill Hotel, 415 New Jersey Avenue, NW DC
Past: Events
October 4 – 8, 2012 {CANCELLED}
Yoga & Wellness Retreat with Takeyah, Kingston, Jamaica
January 21, 2012
6th Annual West Palm Beach Yoga Day, West Palm Beach
Take Living Personally: Developing Your Authentic Lifestyle Equation (10:15am | workshop)
Embracing Your Yoga (12:40pm | yoga class)
October 15, 2011
Yoga with Takeyah @ Feet In The Street Festival
Washington, DC
September 2 – 6, 2011
Yoga + Wellness Retreat with Takeyah

Jamaica | More Info